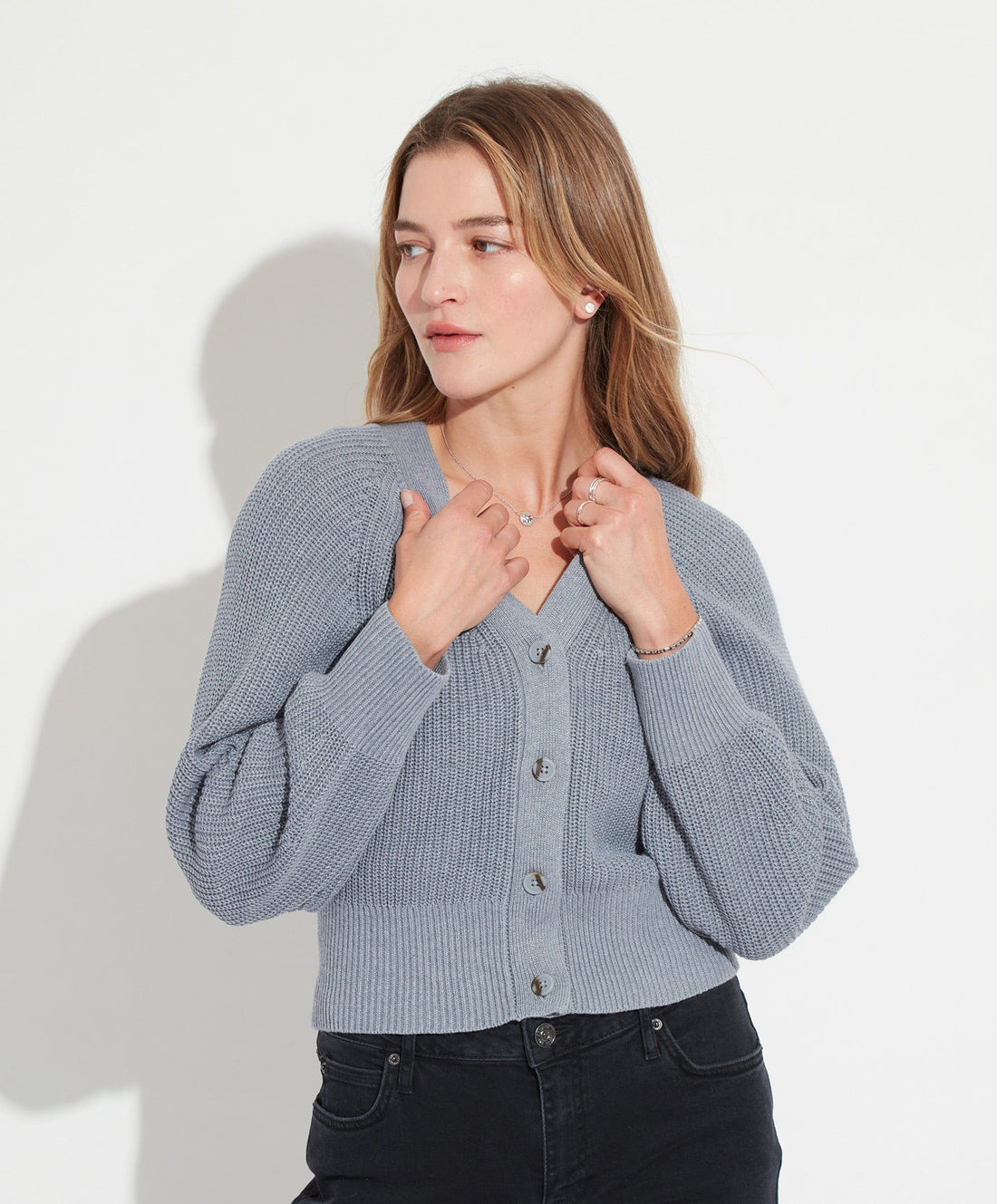 Types of Sweaters for Women: Styles You Don't Want to Miss Out On
We're so excited about the shift in how we dress as the days get shorter and cooler. Autumn's signature ensemble is undeniably the sweater, isn't it? 
Or, maybe you're lucky enough to live in an area with a modern climate year-round, and your favorite sweaters are never taken out of rotation. 
Either way, you can't get enough of sweaters - and neither can we! These are the perfect balance of comfort and style, after all. But perhaps you're ready to try something new as you upgrade your wardrobe this season. You've come to the right place. 
We're going to unveil all the different types of sweaters for women and help you find the right style for your personal tastes. And, we'll also introduce you to the stunning, timeless essentials here at the Reset.
Our sweaters for women are crafted with gorgeous, comfortable fabrics that you'll never grow tired of. From our simple, chic pullovers to our mock-neck and V-neck styles, your new favorite women's sweater is just a click away!
All the Different Types of Sweaters for Women: In-Style Sweaters for Women
Before we showcase our personal favorites let's unpack all the different types of sweaters for women, pulling the curtain back on the top in-style sweaters for women in 2023. From cult classics to new and emerging trends, here's a taste of what you can expect at the Reset:
Pullovers: The All-Time Favorite
The pullover is the epitome of simplicity and style, which is why it graces wardrobes worldwide. It's defined by its absence of buttons, zippers, or any other type of frontal opening. As the name suggests, you just pull it over your head and let it envelop you in comfort!
Historically, pullovers were the choice of seamen and fishermen who valued ease of wear and insulation. Fast forward to today and the pullover is the go-to for a relaxed day out, a brisk morning jog, or a cozy coffee date.
Pullovers are versatile. They shine in semi-casual settings, but with the right accessories - a chunky necklace or a stylish scarf - they can also be dressed up for more formal occasions. Pair with jeans for a classic look, or with tailored trousers for a business-casual ensemble.
There are different types of pullover sweaters worth familiarizing yourself with, though. These can be broken down by different necklines. 
A V-neck pullover tends to elongate the neck and is flattering for most body types. Round necks, on the other hand, offer a timeless appeal. Layer your pullover over a collared shirt and let the collar peek out for an added flair in more professional settings.
Cardigans: Versatility at its Best
The cardigan originated from the 7th Lord of Cardigan who popularized the style during the Crimean War. Since then, this type of women's sweater has evolved into a wardrobe staple. It's distinguished by its open front - buttoned, zippered, or none. It's as adaptive as it is fashionable.
Cardigans are perfect for transitional weather. They can be draped over summer dresses to fend off a chilly evening or buttoned up during cooler days. They're a workplace favorite, especially in environments where temperatures fluctuate.
We love this women's sweater style because it offers endless possibilities. Wear it open, letting your underlying outfit shine, or belt it at the waist for a more defined silhouette. 
A cropped cardigan paired with high-waisted pants can accentuate the waist, while a longer duster cardigan can add drama and movement to an ensemble. Get creative in how you rock this style!
Turtleneck Sweaters: Elegance and Warmth
A turtleneck sweater embraces the neck, serving both a fashionable and practical purpose. It offers both warmth and a sense of sophistication. 
It's said to have roots in Medieval Europe when knights wore it under their armor. Today, it's the touch of elegance that transforms winter wear from mundane to majestic.
Turtlenecks are synonymous with colder seasons and ideal for icy outings or elegant indoor gatherings. They're the choice for those aiming for a chic, streamlined look without much effort. If you're going to be outdoors and want to stay warm while looking effortlessly stunning, a turtleneck is a no-brainer choice.
Simplicity is key when styling a turtleneck. Pair a slim-fit turtleneck with pencil skirts or straight-leg pants for a refined look. Those with shorter necks or a fuller bust should opt for a mock turtleneck, which offers a similar aesthetic without overwhelming the frame.
Ponchos and Wraps: Trendy and Bohemian
Ponchos and wraps give a relaxed fit as they are typically oversized and drapey. They are distinguished by their open sides and can be asymmetrical, lending to their fluid appearance.
These were originally worn by indigenous people in the Andes. Wool was used traditionally as this style provided protection against harsh winter weather. These days, though, you can find ponchos in an array of fabrics to suit different scenarios.
We personally find ourselves pulling these out during spring and fall - they're a transitional weather staple. They're definitely a more casual look so stick with informal outings like picnics, beach bonfires, etc. They're also a festival favorite with their quirky boho vibe.
You can try layering them over a fitted top and skinny jeans and leggings - letting the poncho or warp do all the talking for your outfit. Long, layered necklaces and ankle boots can really accentuate your bohemian look. 
Sweatshirts: Casual and Cool
Sweatshirts are as basic and casual as it gets when discussing the different sweater styles for women. They're typically made of cotton or a blend with a soft interior lining (often fleece). 
You can find various designs ranging from plain, subtle styles to graphic prints that pop. Oftentimes they'll have a hood to protect your neck, ears, and head from the elements.
While sweatshirts were originally a garment for athletes looking to sweat it out during workouts, mainstream fashion got a hold of them in the latter half of the 20th century. Today these are seen as the most basic type of sweater for women - a staple you need in your wardrobe.
Because they're so causal you'll rely on these for errands, gym sessions, or relaxed evenings with loved ones. Pair them with joggers for a coordinated athleisure look or contrast with jeans for a laid-back vibe. Round out the look with sneakers and a cap to really bring out the sporty girl in you.
Boleros and Shrug Sweaters: Chic Add-ons
Last, but certainly not least in our list of women's sweater styles, we have boleros and shrugs. They're technically in the same category but there are subtle nuances that differentiate them.
Boleros, for example, have a more structured fit and often end above the waist. Meanwhile, shrugs are looser and typically extend to mid-waist or just below.
These styles are both derived from Spain and inspired by the short jackets matadors wore. They became more and more popular as an accessory to evening dresses in the 20th century - and they're still around today helping women make statements.
While much has changed over the years, these still serve as a perfect compliment to formal attire - especially while attending events in cooler settings or evening gatherings where you want a bit of warmth on your arms.
Wear them over a strapless or sleeveless dress to add a layer without overshadowing the main outfit. Boleros look especially chic when paired with high-waisted skirts. Consider pairing shrugs with a fitted top and pencil skirt or tailored pants.
Tips on Choosing the Right Sweater Styles for Women
There you have it - all the different types of sweaters for women. The truth is, it's nice to have at least one of each in your wardrobe so you have the option for any occasion. 
But what if you just want to leave here today with one or two styles? 
Below, we'll help you determine which of the sweater styles for women best suit your figure and personal preferences.
Considering Body Type and Silhouette
While you shouldn't feel restricted to a specific women's sweater style just because of your body type and silhouette, there are universal standards for which types of women's sweaters look best on each specific frame:
Hourglass

: Aim for sweaters that cinch at the waist to enhance your curves. Avoid bulky fabrics that can mask your silhouette.

Pear-shaped

: V-necklines and A-line sweaters work best as they draw attention upwards and provide a balanced look.

Apple-shaped

: Opt for longer sweaters that provide coverage. Tunics and flowy styles can be flattering.

Rectangle-shaped

: Textured sweaters, ruffles, and patterns can introduce curves to your frame.
Color Choices: What Works Best for Your Complexion?
Bringing out your natural complexion through strategic color selection is important when choosing among the various women's sweater styles:
Warm undertones (golden, peachy)

: Earthy tones like terracotta, camel, and olive green enhance your natural glow.

Cool undertones (blueish, pink)

: Jewel tones such as emerald, sapphire, and amethyst complement this complexion.

Neutral undertones

: Lucky you! Most colors - from muted to vibrant - will look fabulous with your versatile complexion. Experiment with a range of colors and find what fits you best!
Material Matters: Wool, Cotton, and Beyond
While some of the women's sweater styles are available in a range of fabrics, others are rigid in the type of materials they're made from. Choose based on your desired texture/comfort:
Wool

: Natural, breathable, and warm. Ideal for harsh winters but might require special care during washing.

Cotton

: Lightweight and perfect for transitional weather. It's easy to care for and comfortable against the skin.

Cashmere

: Luxurious, soft, and incredibly warm. An investment piece for your wardrobe.

Synthetics (like polyester)

: Durable and can be more resistant to wear and tear. However, they might not be as breathable as natural fibers.
Necklines and Their Impact on Your Look
Necklines in particular can make or break your look. Again, you can choose a neckline based on your body type and personal style preferences. Here are the most common types of necklines:
V-neck

: This versatile style elongates the neck. Especially flattering for pear-shaped and larger busts.

Crew neck

: A classic choice that offers more coverage. Ideal for rectangle and apple-shaped bodies.

Turtleneck

: Chic and warm. Perfect for those with longer necks or narrow faces.

Scoop neck

: Adds a touch of femininity and works well for those with shorter necks.
Ensuring the Right Fit: Size and Comfort
Proper size is paramount no matter what type of women's sweaters you choose. Otherwise you'll end up with a stunning in-style sweater for women that never sees the light of day. 
While shopping online can present sizing challenges, they can be overcome with a bit of due diligence:
Sizing

: Always refer to the brand's size guide. Remember, fit can vary based on the brand and style.

Stretch Test

: A little stretch ensures comfort but avoid overly stretchy fabrics that might lose shape.

Seams and Shoulders

: Ensure shoulder seams align with your actual shoulders. Misalignment can make a sweater look ill-fitted.

Length

: Depending on your preference and body type, choose a length that provides the desired coverage without sacrificing style.
Be sure to shop with a brand that makes exchanges and returns simple and straightforward in the event of sizing mishaps. This eliminates stress and anxiety and allows you to shop with confidence. As you'll discover in a moment, this is just one of the many reasons to love shopping with the Reset.
The Most Stunning, In-Style Sweaters for Women are a Click Away at the Reset!
Remember, at the end of the day, the best type of women's sweater is one that makes you feel confident and comfortable. Armed with this advice, you're sure to make a choice that not only suits your style but also celebrates your unique self. 
At The Reset, we're here to help you find that perfect match. We're passionate about taking the guesswork out of dressing with a curated collection of pitch-perfect essentials. No more long hours stressing over outfits - it's time to make fashion effortless!
Our emphasis isn't just on what's trending but on what's timeless. We prioritize flattering fits, impeccable tailoring, and luxe fabrics. You're adding a versatile, durable staple to your wardrobe when you shop with us.
From The Bestie with its cozy, sumptuous texture to The Looker which flawlessly captures the "tossed it on" elegance, our sweaters are more than just garments. They're statements. 
While we've shared only a snippet of our collection, each piece echoes our commitment to style, comfort, and versatility. And, we have a full selection of women's clothing worth exploring - including dresses, tops for women, coastal comfort, you name it. 
We encourage you to browse our catalog of in-style sweaters for women and see what catches your eye - we're confident you won't go home empty-handed!
Final Thoughts on the Different Types of Sweaters for Women
Hopefully, this conversation on the different types of sweaters for women leaves you inspired and confident in navigating the vast sea of women's sweater styles available. 
While each has its place, there's probably one style in particular beckoning you right now. From the classic pullover to the warm turtleneck, the versatile cardigan, and all the other sweater styles for women we've covered - the only question is, which is it?
As the season turns and the air grows crisp, remember: the ultimate edit of pitch-perfect sweater essentials is just a click away. Discover, indulge, and redefine your wardrobe with The Reset!