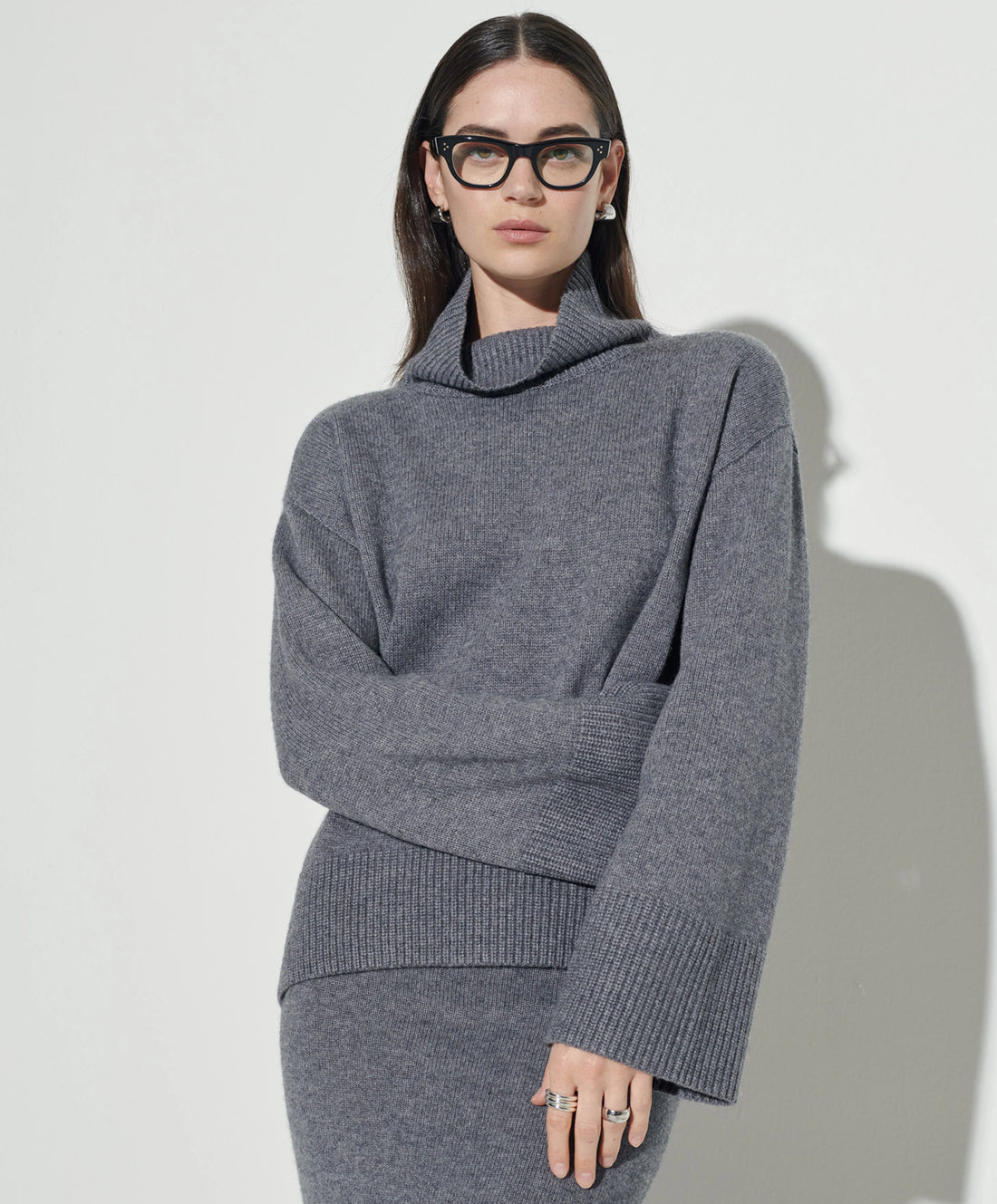 The Best Fall Sweaters For Women: Top Picks This Autumn at the Reset
There's something undeniably enchanting about the onset of fall - the amber leaves, the crisp breeze, and the promise of cozy days ahead. The ritual of updating your wardrobe is integral to this seasonal charm, and at the heart of that is the quest for the perfect fall sweater. 
Every woman knows the allure of that ideal sweater: it's a cocoon of warmth, a memory-maker, and a timeless style statement. But how do you find that perfect pick that will elevate your fall style while keeping you comfy and cozy?
We've curated a collection of the best fall sweaters for women that encapsulates not just the trendiest designs for 2023, but also those timeless pieces that never fade. 
Whether you're seeking the familiar embrace of a beloved classic or eager to discover this season's must-haves, trust that the finest women's fall sweaters await you, just a click away!
The Timeless Appeal of Women's Fall Sweaters
Fall sweaters for women are pieces that echo the season's soul. Sure, they serve as a shield against the autumn chill, but it's more than just practicality. 
Think back to your favorite fall moments - sipping cider by the fire, strolling through rustling leaves, or enjoying an evening with loved ones. More often than not, a trusty sweater played a role, wrapping you in warmth and comfort.
The perfect women's fall sweater becomes interwoven with cherished memories. It's that piece you wore on a memorable first date, or during a heart-to-heart with a dear friend.
They're staples because they offer both tangible comfort and a tether to our most treasured autumnal moments. That being said, what separates the best fall sweaters for women from the rest?
What are the Characteristics of the Best Fall Sweaters For Women?
Before we share our favorite picks this autumn season, let's talk about what you should look for as you hunt down your new favorite fall sweater - from fabric to design and more!
Fabric Choices: From Wool to Cotton
Fabric plays a pivotal role in determining a sweater's feel, durability, and warmth. 
Wool, for instance, stands as a classic choice. It's renowned for its insulating properties and soft touch. Merino wool is a particular favorite that offers a smoother texture, preventing that itchy feel some associate with traditional wool. 
On the other end of the spectrum, cotton provides a lighter alternative, making it suitable for milder days or indoor wear. Its breathability ensures comfort, while its ease of care adds a layer of practicality.
From cashmere to synthetic blends, the possibilities are endless. It's up to you to think about which fabric makes the most sense for your style, preferences, and budget.
Design Elements: Necklines, Sleeves, and Patterns
We talked all about the different types of sweaters for women in a recent article if you aren't sure which style you should go with. After all, a sweater's design elements significantly impact its aesthetic appeal. 
Varying necklines - be it V-neck, crew neck, or turtleneck - can accentuate different body types or cater to particular styles. 
Sleeve variations, from bell to bishop, and patterns, whether solid, striped, or intricately knit, contribute to a sweater's overall vibe, allowing wearers to express their individuality.
This is part of what makes fall women's sweater shopping so fun - the possibilities are endless! In that sense, though, which types of sweaters are most versatile this time of year?
Versatility: From Work to Casual Outings
Versatility is the hallmark of an exemplary fall sweater. It should seamlessly transition from the boardroom to a casual brunch. 
This adaptability means a neutral color palette for effortless pairing, a fit that flatters without being overly restrictive, and an elegance that's undeniable, irrespective of the setting. 
A sweater doesn't just occupy space in your wardrobe when it checks these boxes - it enhances it.
Unveiling the Best Fall Sweaters for Women at the Reset
Wearing the best fall sweaters for women is a must every autumn amidst the splash of colorful foliage and the embrace of a chill in the air. We're proud to elevate this ritual with a curated collection that speaks to both contemporary trends and timeless elegance.
You'll gain access to the most stunning, classic sweaters for women in our catalog. But, which are the best for fall weather in particular? We'll highlight our favorite long sleeve sweaters in particular below, as these are a match made in heaven for this autumn season.
What Makes Our Women's Sweaters a Must-Have This Fall?
We believe in crafting stories and curating experiences through our expertly crafted garments here at The Reset. Our brand stands as a testament to innovation, sustainability, and authenticity - we're rooted in heritage but designed for the contemporary woman.
Every collection emerges from a blend of traditional craftsmanship and modern aesthetics. With styles that last and materials that can keep up with even the craziest lifestyles, you won't be disappointed when you shop with us. Find the best fall sweaters for women below!
Trendy Picks for 2023: Highlighting This Season's Essentials
We encourage you to browse our full selection, but these six styles in particular are a must-have this fall season:
Overly Essential

: Elevate everyday elegance with our Cashfeel wool masterpiece. Dolman sleeves and varied hues from natural to black set this piece apart as an emblem of sophistication.

The Must-Have V

: This is

the

V-neck sweater of the season. Our reinvention of the classic ribbed design boasts contemporary features like balloon sleeves and contrasting ribbing. Dive into a palette that spans from the warmth of camel to the coolness of dusk

The Magic Mock Neck

: The epitome of cozy chic. This generously oversized piece invites you into its warmth, while the mock neck adds a dash of fashion-forward flair. Its colors encapsulate fall's essence, ranging from the tranquil white pepper to the dynamic black stripes.

The Flawless Funnel

: Solving the eternal "

what to wear

" dilemma one neck at a time. This piece seamlessly melds sophistication with ease, enhanced further by a hint of cashmere. Whether it's the deep allure of Atlantic or the vibrancy of jam, each shade tells a story.

The Bestie

: This sweater champions comfort with its soft texture and amplifies fashion with its fitted waist and rib-knit accents. Be it the ethereal cream or the classic black, The Bestie is set to be your wardrobe's new darling.

The Cult Crew

: Meet the sensation that's got everyone talking. Its cropped silhouette paired with dynamic sleeves is a testament to modern chic. Explore hues from seed to Atlantic, and let each wear be a fashion statement.
Timeless Sweaters That Never Go Out of Style
The best part of shopping at The Reset is you don't have to refresh your wardrobe seasonally (Although we're always adding new styles to love!). All our women's fall sweaters are designed to age gracefully and remain timeless regardless of new trends emerging.
Our Overly Essential and The Bestie are perfect examples. Their timeless design, combined with unmatched quality, ensures they're not just for a season, but for a lifetime. 
Whether it's the soft allure of the Bestie's raglan sleeve silhouette or the quintessential charm of Overly Essential's lived-in softness, these pieces are perennial favorites, season after season.
Perfect Pairings: Coordinating Your Reset Sweater with Other Fall Essentials
Not sure what to wear your new favorite women's fall sweater with? We've got you covered.  Our guide to the fall wardrobe must-haves will help you piece together outfits to perfection. In the meantime, here are some ideas:
Denim Delight

: Dark-washed high-waisted jeans paired with ankle boots can complement the texture of a soft wool sweater, creating a harmonious blend of casual and chic.

Skirt Stories

: Whether it's a flared skirt or a sleek pencil design, pairing with knee-high boots can accentuate the sweater's silhouette. Remember, it's all about balance.

Trousers & Oxfords

: For a business casual appeal or a smart brunch outfit, straight-fit trousers coupled with lace-up Oxfords encapsulate that autumn sophistication.

Accessorize Wisely

: Chunky scarves, minimalist jewelry, or a statement necklace can be that final touch, giving your ensemble a signature look. Choose based on the sweater's neckline and overall design.
There's no bad way to wear our women's fall sweaters if you feel confident and comfortable. Get creative and put your personality on full display. 
Take a look around our online storefront and see which sweater catches your eye - because at this point, it's time we brought this conversation to a close and left you to do some shopping!
Bringing Our Conversation on Women's Fall Sweaters to a Close
Sweaters are an emblem of fall's embrace, encapsulating the season's heart in each stitch. As we've journeyed through the art and allure of the best women's fall sweaters, one thing stands clear: quality and style are inseparable. You can enjoy the best of both worlds at The Reset.
So, why not redefine autumn today and get the best fall sweaters for women at The Reset? Embrace the season in style with our catalog today.